Longwood Joinery Ltd have been manufacturing quality windows, doors and staircases since 1972, and are committed members of the British Woodworking Federation (BWF) and the Construction Industry Training Board (CITB). The current owners Paul Shooter and Andrew Humphries took charge in 2008 when the original owners decided to retire.
They have a well-deserved reputation for delivering quality products on time and have developed close relations with their customers, and although they supply many of the major house builders, such as Persimmon Homes, Linden Homes and many more, they still offer their individual customers the highest level of project consideration and great value for money. They pride themselves on working to the highest standards within the Industry for performance and quality, with investment in the latest machinery to further enhance and innovate the manufacturing process. Having been Hoffmann customers for many years, (Using the Hoffmann MU-2, now superseded by the MU-3, in the production of handrails and staircases) Paul and Andrew were keen to bring Hoffmann reliability, accuracy and speed into the window production side of the company.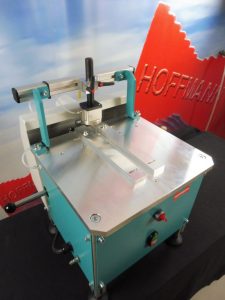 The Hoffmann CB-M End Profiler was designed exactly for this purpose, a resourceful counter-profiling machine for the production of crossbar joints.
After various discussions with John Galvin (Director – Hoffmann UK), Paul visited the Hoffmann stand at the 2019 Harrogate Woodworking Show for a demonstration of the Hoffmann CB-M. This practical bench top version is ideal for the small and medium size manufacturer. It produces precise tear-free counter profiling on the ends of Georgian bars in furniture, windows and door manufacturing.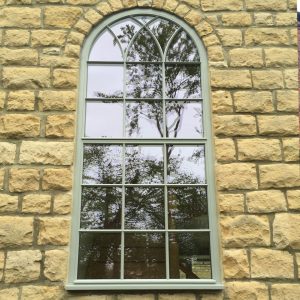 Two variable speed, counter-
rotating router motors – left / right – create the counter profile on the end of the bar accurately and fit without chipping or tearing. The variable speed motors can be adjusted for the optimum speed to produce the best possible finish. Choice of speed is relevant to the profile shape and the wood species. The machine is supplied without tooling, as each customer will require tooling to suit their own particular profiles. The application of this joint would be in Georgian window design, doors and furniture. When sealed double glazed units are used then these profiles are attached to the surface with a dedicated adhesive tape.
Paul was so impressed with the demonstration that a sale was agreed there and then at the show. He said "The Hoffmann CB-M end profiler has certainly increased the quality of the finished product. We can now cut the glazing bars to suit the required profile of each individual piece allowing a much tighter joint with less filling needed before finishing." They are using the CB-M to produce Georgian glazing bars on their doors and windows.
A classic design …….manufactured economically.