The Hoffmann W-0
The latest Key size from Hoffmann machine Company
SMALL in size but HUGE in application.
 The world of creative design is constantly demanding finer and more delicate wood profiles. These finer details are the highlights of modern times and design! Tall and thin profiles which are now prevalent, especially in the framing industry for float frames and shadow-boxes, have always been a challenge for manufacturers.
These profiles are finer and more discreet, especially in the field of furniture and interior design as well as the picture framing industry. But that means, the machining processes for these work-pieces becomes much more difficult – or a corner joint of such profiles almost impossible to secure…that was until the new Hoffmann W-0 Key arrived.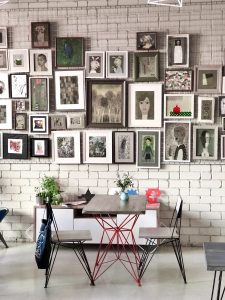 In conjunction with a Hoffmann machine, the Hoffmann W-0 Key allows framers to truly customise their profiles with confidence….an elegant solution to compliment creative design.
 The new Hoffmann Key W-0, is appr. 1/3 smaller than our already legendary and proven key size W-1. It now opens a completely new field of application throughout the woodworking and picture framing industry. With a cross sectional size of just 3.3mm x 4.4mm it will draw together even the smallest of frame profiles (7mm wide and upwards) with startling strength. Using single or multiple keys, extremely narrow and very high profiles can be jointed.
The Hoffmann W-0 keys are now available in lengths of 10, 22 and 35mm.
Hoffmann Keys – synonymous for secure connections – "We're found in the best joints" are now available in 5 standard sizes in terms of cross section. Within each cross sectional size, there are numerous lengths available. Thus, for each application, the best possible secure strength is established, to correspond with the expected tension or pressure loads on a joint and hence is totally reliable! Take a look at all the different sized keys we now produce.
To see a machine in operation visit our workshop in Morecambe (by appointment) for a demonstration……or send us your profiles and details with a drawing of the joint which you require and we will prepare them and return them to you for assembly.
Contact : Hoffmann Machine Co Ltd 01524 841 500 info@hoffmann-uk.com or for International enquiries please contact Hoffmann GMBH