As a
 highly reputable firm within the industry, Stairways Midlands manufacture a range of doors and staircases but are probably best known for pioneering the production of the 'door set' for national housebuilders, architects and contractors.
Privately owned and managed since it was founded in 1989 by Mr Roger Stevens, Stairways has rapidly grown to become one of the UK's largest manufacturers of carpentry and joinery products. Starting as a small family business they now boast three midlands-based factory units that offer over 85,000 sq. ft of bespoke and mass production capacity using innovative machinery and a team of skilful, passionate workers. The second generation of the Stevens family, Mr. Neil Stevens and Mrs. Karen Wood are now sole directors.
Stairways are continuously looking for opportunities to improve and expand the services they offer; this includes the investment in new machinery to enhance and innovate the manufacturing process, with the aim to shorten lead times and increase overall in-house capacity whilst ensuring their process remains as efficient as possible from start to finish. They found answers to these challenges in Hoffmann Machine Company Ltd.
Stairways Midlands first became aware of Hoffmann Machine Co Ltd about 22 years ago at the Woodmex Trade Show. They bought their first machine in 2000 for their Southam Door Division. Following consultation with Hoffmann UK and Hoffmann's design team in Germany, the chosen machine was the Hoffmann MS35-SF.
This combination machine not only cuts the perfect mitres but simultaneously routers the dovetail slots to join the mitres with Hoffmann Keys. The machine also has an integrated cross-cut saw which makes the square cut and controls the length of the upright section of the architrave. This machine configuration enables the production of the three elements of the architrave set, two uprights and one header, from a 6m bar length. Each machine cycle for these three elements takes approximately one minute. Following the delivery of a second Hoffmann machine they now have the capacity for 1000 door-sets per week. They were so impressed with the quality, accuracy and speed of these machines that they expanded the range to include additional machines at their Welshpool Door Division to mitre glazing bead and at their Walsall Stair Division to mitre and join the handrails.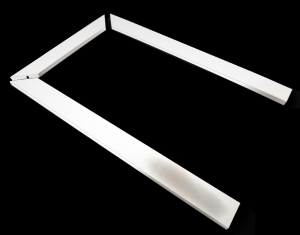 Using Hoffmann machines is the more efficient way to mitre and join these products and is therefore a good selling point. It improves the finish and provides a stronger quality product. They have recently replaced the original machine at Southam, which was still operational after 20 years in service and having been used nearly every working day since it was installed! The machine at Welshpool has also been updated by a new model, also with an integrated chop saw.
 Although specializing in some areas, Stairway's products are wide ranging. As well as complete staircase manufacture, both standard and bespoke, they also manufacture purpose made joinery to order. Their customer portfolio is impressive. The door-sets are available as internal, external or to relevant security standards. The door-set sizes are determined by each contract and client. The MDF wrapped profiles are supplied nationally in painted, foil wrapped or real-wood veneered. These profiles have many applications in the industry. They are used as architraves, skirting boards, cornices, and bedroom furniture components. Hoffmann Dovetail Keys are accredited with FD30 / FD60 fire ratings.
Stairways continue to grow in both capacity and stature and lead the industry with innovation and investment.